BECOME A LICENSED SKYDIVER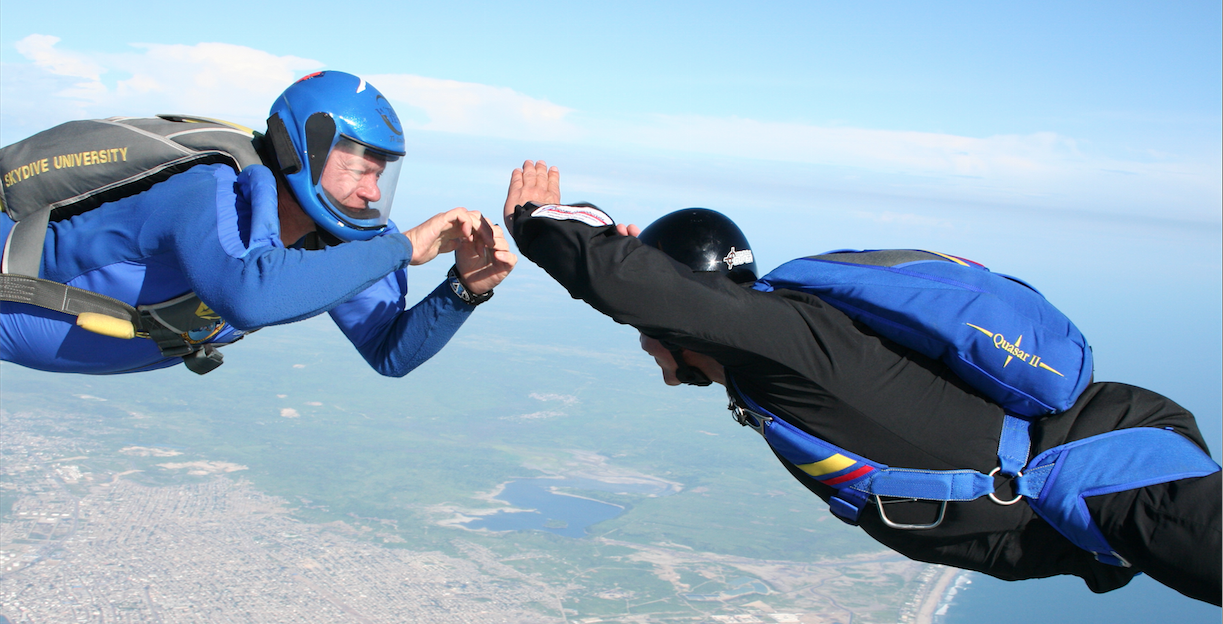 Complete Your 'A' License in a Week: SDU's license program–in combination with Wind Tunnel AFF–makes it incredibly easy to work towards attaining your initial license, setting you right on your way to becoming a professional in the sport of skydiving.
SDU has several options for students to choose from, whether they want to achieve just a general license or begin training towards a specific goal––like mastering large formations, wing suit flying or learning dynamic freefly skills.
There are a series of licenses in skydiving, each allowing certain privileges to a jumper. Most national associations have as many as 3-5 license levels; for example, the United States Parachute Association (USPA) has A, B, C, and D levels. The 'A' license is the first step, allowing you to fly "solo" at any North American drop zone and any around the world.
Skydive University Offers Two Basic USPA 'A' License Packages:
A basic license, providing coaching only to fulfill the national license requirements.

Coaching on all jumps (except the mandatory solo – 3 jumps in the license program).
The focus of your initial license is to provide you with the essential safety skills you'll need to handle skydiving under your own supervision. You'll also gain experience jumping with others, as you learn to safely approach and leave a group in free-fall and fly your parachute within traffic to a common landing area.  The higher the license level you achieve – the more privileges awarded to you so that you can grow as an athlete and further enjoy the sport of skydiving.
To clarify the purpose of licenses: Licenses are a way to measure certain tasks and knowledge, ensuring safety in our sport.  It's important to remember that license levels do not correspond to being an excellent "athlete" or performer; however, Skydive University also provides specific, specialized coaching programs to achieve success within the sport's many disciplines—or to secure your own personal or professional development in skydiving.
Skydive University follows a structured Integrated Student Program (ISP), or 'A' license program, utilizing 17 unique flight planners.  The planners ensure all safety information has been covered, as well as thorough canopy control training.  The planners also cover the canopy control training necessary for the USPA "B" license. 
The skills matrix for training and coaching, which you will complete following the TAFF (8 jump) program, is listed below:
Contact

SDU for more information.

TAFF "A" LICENSE MATRIX

CATEGORY
USPA

IN-FLIGHT

FREE FALL

CANOPY CONTROL

EQUIPMENT

THEORY & REVIEW

G


Level 9
Dive exit FS
Door safety
Downward movement
Upward movement
Upward/proximity control
Track refinement
Stationary point
Pattern adjustment
Pack
Group freefall
Review: Aircraft emergency

G


Level 10
Dive exit FS
Downward/forward dock
Upward/forward dock
Delta
Stairstep approach
Collision avoidance
Upon deployment
Front riser dive
Braked landing
Replace closing loop
Pack
License briefing
Recurrency Training
Canopy decision
Accidental activation

G


Level 11
Dive exit FS
In-flight safety check
Down/forward dock
Upward/forward dock
Track refinement
Front riser turns
Front riser spirals
Canopy traffic
3 ring care
Pack
Turbulence
Review:
Dual canopy situations

H


Level 12
Dive Exit and Swoop
Mantis
Center turns 90°/SCS
Dive & Track test
Dynamic half brake turns
Balanced flight
Best glide
Pack
Freefall traffic
Weather
Review: Aircraft emergencies

H


Level 13
Dive Exit & Swoop
Pilot briefing
Center turns 180°/SCS
Low recovery
Glide angle
Quadrants
Turn reversals
Adjust approach on final
Pack
Aircraft: Weight & balance
Canopy decision

H


Level 14
Dive Exit & Swoop
Pre-board briefing
Delta w/SCS
Center turns 360°/SCS
Dive & Tract test
Alternate landing
Pack
Stairstep approach
Flare test
Review: accidental activation

H


Level 15
Dive Exit & Swoop
Center turns:
Outfacing 90°
Dive & Track test
Traffic awareness
Pack
Low turns
Parachute rigging
Review: Aircraft emergencies

H


Level 16
Dive Exit & Swoop
Center turns:
Outfacing 180°
Dive & Track test
Canopy collision
Pack
Single Harness
Freeflying
Review: Dual canopy situations

H


Level 17
Dive Exit & Swoop
Spot: heading correction
Spot: freefall drift
Center turns:
Outfacing 180°
Dive & Track test
Hop and Pop 5,500
Hop and Pop 3,500
Accuracy
Cross wind landing
Gear selection
Pack Test
Water landings
High altitude & oxygen
Aircraft operations: FAR 91
Parachuting operations
Airspace and airplanes
Coach rating
Review: Aircraft Emergencies