Go Ahead and Jump!
Tandem Skydiving in DeLand, Florida With Skydive University
Call to Book Today: 386-748-8042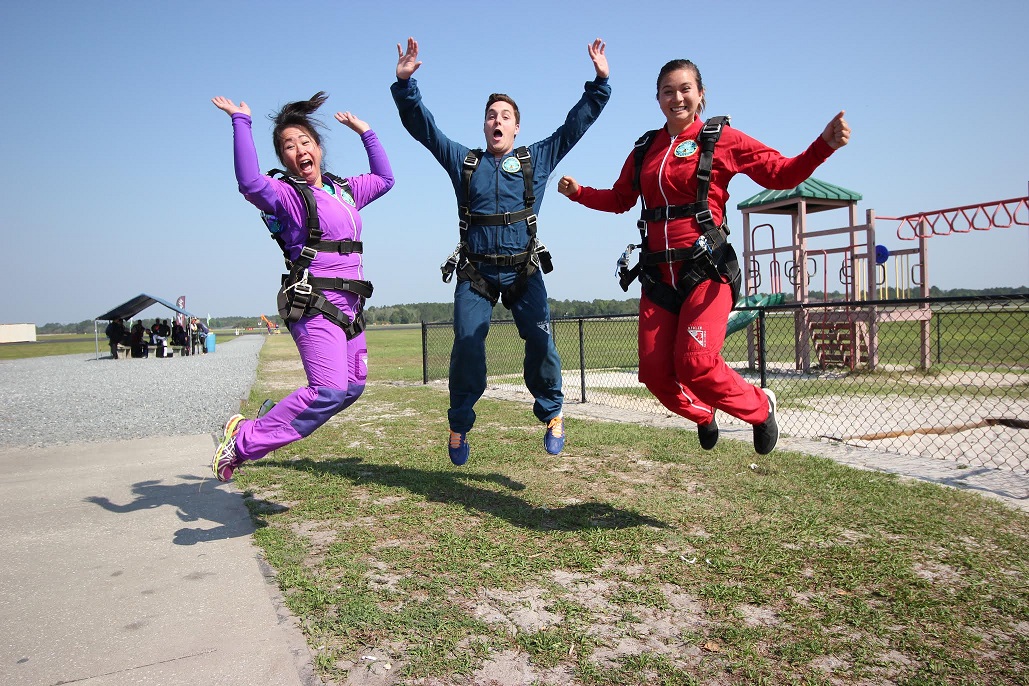 Skydive University's tandem instructors are ready to take you on the thrill ride of your life through the skies of sunny Central Florida.
Everyone wonders what it's like to fly, and now you can finally find out when you book your tandem skydiving experience with SDU.
Skydive University is THE Place for An Unforgettable Tandem Experience...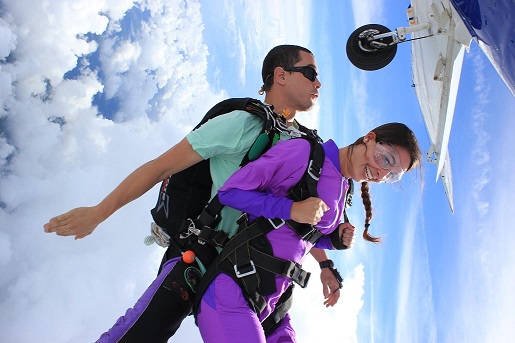 We're the Instructors' Instructors –All tandem instructor "trainers" are trained here in Deland. Deland Tandem staff is highly qualified and professional.  Skydive Deland is open 365 days/year for over 25 years.  There is no other staff that remains as current in jumping anywhere.  All Deland staff members are rated as Freefall Instructors and Coaches and are either current or former competitors, themselves.
Minimum waiting: Large Aircrafts Available for Group Tandems – Our home dropzone (DZ) at Skydive DeLand has an incredible fleet of aircrafts available for busy days and tandem groups. There are two 22 place and one 15 place aircraft at your service.  We're in the air 7 days a week, as long as Mother Nature permits! Check out our

group tandem skydive

 
Our DZ is World renowned – DeLand is one of th first "International Training Centers of the World," and has been going strong for well over 30 years. People from all across the globe come here to jump. We have beginning as well as professional skydivers, competitors, athletes, and teams dropping in all the time to train here and set both national and world skydiving records.
Why Not Book Your Tandem Jump at the Skydiving Epicenter of the World?  Deland, the home of Tandem skydiving.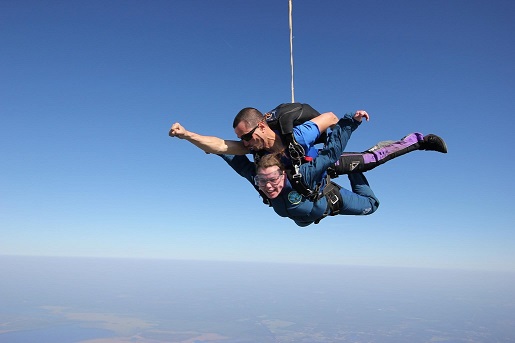 Since 1982, Skydiving in DeLand has been growing and attracting more of the parachute equipment manufactures and industry. Deland is where Tandem equipment was created, is manufactured, and is the training center for a majority of all Tandem Instructors "worldwide".
Deland has been renowned for it's progressiveness in our sport. Skydiving's largest educational innovations have all been created here.  The Accelerated Freefall Program (AFF), Tandem skydiving, and Skydive University development of professional coaching. 
Facilities:
Skydive Deland has a number of air conditioned classrooms, the "Perfect Spot" restaurant open for breakfast, lunch and dinners, a large deck and upper deck for your viewing pleasure. All family and spectators are welcome.  We also have a fenced in children's play area.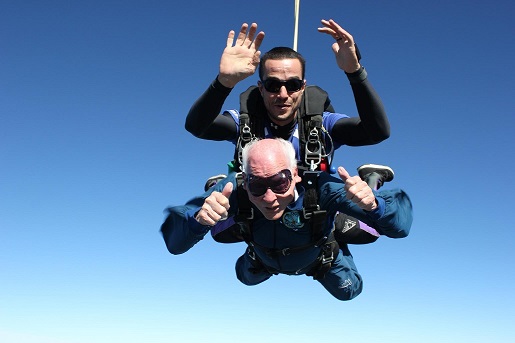 Call to Book Today: 386-748-8042
What you must know to book:
Is there a weight limit for a tandem skydiving passenger?
The weight limit for a tandem skydive at Skydive University is about 225 lbs; however, please call us to request a heavier tandem skydive. It all just depends on whom we have on staff the day you'd like to make your tandem skydive.
What about the age limit or requirements for tandem skydiving?
You must be 18 years old. There is no maximum age, so long as there are no serious health or mobility issues that would prompt us to advise against making a tandem skydive.
Please contact us to discuss any weight, age or mobility inquiries as you plan and schedule your Florida tandem skydiving experience with SDU.
Federal aviation regulations (FAR's):
You cannot participate in skydiving if you have consumed and alcohol or of course, and drugs.
See our Tandem Skydive FAQ's here, and if you have any additional questions, drop us a line at Skydive University – we'll be happy to answer them!
TANDEM PRICING
Tandem Skydive

$189

Groups of 4 - 6

$165

Groups of 7+

$155

VIDEO

Video or DVD & Photos

$90