SKYDIVE COACHING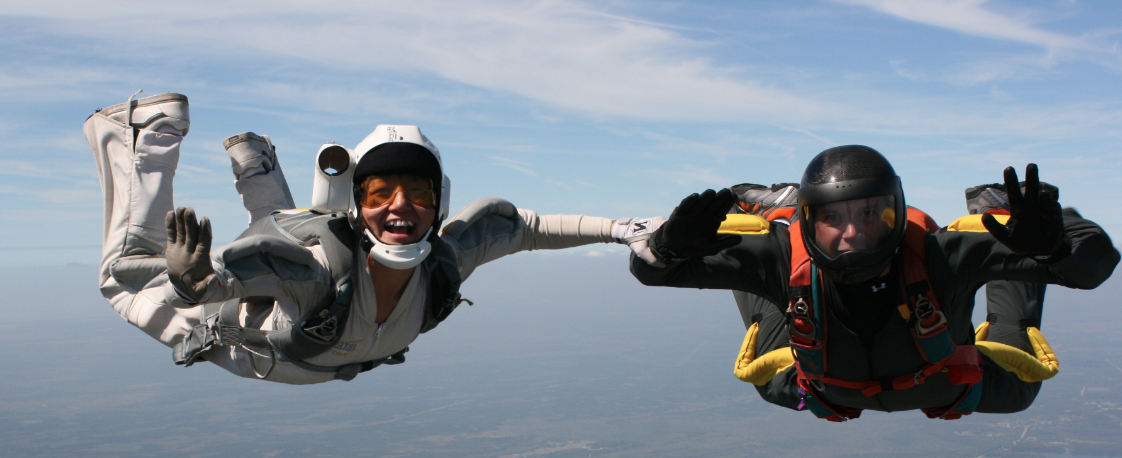 Since its inception, Skydive University's number one specialty has been coaching. SDU first came out with the Basic Body Flight program–and immediately followed it up with the Basic Body Flight Coaches Program–in 1991 through 92.
SDU also produced a Basic Canopy Flight book/video combination, a 4-part Learning to Freefly series and a Wingsuit program.  Our coaching ranges from basic "A" license coaching to coaching at the National and World Championships and World Record events.
Quality Coaching Tips from Top Athletes, Talented Instructors
Skydive University's coaches all participate in additional coach training beyond the "basic" USPA coach rating.  Our coaches coach from a "top down" approach; in other words, we coach from the latest, high performance models and techniques passing this information to progressing skydivers––rather than the basic model, which is training to be a specialist of "A" license skills only. The alternative to our program, the USPA's basic coach level, only trains coaches at the basic "A" license level, and a high performance link should not be assumed.
"All of our top coaches participate in competitions nationally and internationally and/or partake in world record events…"
    - Rob Laidlaw, Founder/Owner of SDU
Coaches with competition experience will not only help you build your high performance skills quickly––they are inspiring, effective leaders for teams looking to sharpen their approach.  Coaches with competitive experience can assist in long term planning, team building, problem solving, psychological training, physiological training, and you can count on them helping you "peak at the meet."
SKYDIVE UNIVERSITY'S TEACHING TECHNIQUES
Performance:
By training intensively with the professional assistance of our coaches, you have the opportunity to accelerate your skills in such a way that would normally require hundreds of jumps. Our coaching philosophy is one of a "holistic" approach: Our training incorporates physical, psychological and mental capacities, focusing on the enjoyment of flying, and showing you not only how to do it but believing that you can do it.
In order to succeed, you will need to be dedicated and completely committed to improving your own skydiving. We recommend a minimum of 6 jumps in order to observe a lasting improvement in flying skills. We're confident you will enjoy a fun, progressive learning environment with some of the best skydivers in the game.
Overseas Skydivers:
Skydive University is internationally recognized by most parachuting federations in providing the standard of instruction necessary to meet federation guidelines. The British Parachute Association, for example, has recognized that the Basic Body Flight program meets the FS1/Cat 10: a requirement for all British students.
Wind Tunnel Training:
Skydive University's main campus in DeLand, FL has access to iFly Orlando: a state-of-the-art wind tunnel located in Orlando, FL. Coached wind tunnel time is a safe, effective way of improving individual and group flying skills. This is one of the best wind tunnels in the country and is used by many top U.S. and international teams. We will work with you to design a custom wind tunnel program for individuals and teams to enhance and grow your skills in both skydiving and instruction.
FORMATION SKYDIVING
Basic Body Flight (BBF)

At SDU, we offer intensive professional programs to teach the fundamentals of relative work in a safe, relaxed, fun format. The courses cover all of the basic flying positions and principles for effective relative work – moving from simple skills and exercises to more complex ones. Retaining the very best training available will drastically shorten the time and expense required to emerge as a safe, skilled skydiver (and it will greatly enhance the fun and satisfaction in achieving many successful skydives.
One-on-One:
Private, individual coaching–or one-on-one–is the most effective way to learn your personal flying skills quickly.  The more people you jump with while you are still learning to fly, the slower your progression will be.
For example, a four way drill dive with pairs completing 360° turns and back to grips may allow you just 2 or 3 turns for yourself.  When you are doing individual training with a coach who is not going to move, you can increase the amount of turns to as many as 12-15 on one jump.  In skydiving: repetition is what locks the skill. Therefore, the result of doing an entirely privately-coached BBF program (and what you will be able to accomplish in the end as a skydiver) is unparalleled.
The Program: A full course is a 15-jump program that can be completed in 3 - 5 days. At all times, safety is the main consideration. The course begins with the fundamentals of a relaxed neutral flying position and continues with a logical progression to more advanced skills.
The skills taught include forward and backwards movement, level control, center turns, sideward, and super-positional moves––all of which combine two or more of the fundamental movements.
Students will have the opportunity to learn a wide variety of exits, gaining an understanding of the relative wind upon leaving the aircraft. A good track is essential for safe break-off after relative work, and we place great emphasis on flat tracking skills.
You will receive canopy control instruction to learn more about how your parachute flies and how to handle different wind conditions, turbulence and less-than-perfect spotting.
The best part is: At the end of the course you will have all of the skills necessary for successful formation skydiving!
Advanced Body Flight Programs
Have you challenged your skydiving abilities lately?
Do you feel as if you are not improving very much?

You have a grasp of the basics, but wonder what's next?

Are you satisfied with your body position?

How's your fall rate control?

Can you whip a 540 in place?

Are you confident to be outfacing?

When was the last time you practiced vertical moves?

Can you swoop to any formation?

Do you track well?
Advanced One-on-One:
We can help you turn faster, recover quicker, be more confident in any slot and track while having a blast at the same time. Our business is coaching: it's always been our primary focus. If you want to be good or–better yet–great at this sport, be coached by the best.
Our advanced course is an intensive course designed to radically challenge your skydiving abilities. Utilize a personal coach to provide thorough and progressive feedback. Use wind tunnel time to maximize your learning potential. If you want to be a great skydiver, and you have the commitment and dedication to achieve your personal goals, call us today to make a reservation! 1-800-891-5867
Three-on-One:
This program teaches SDU's Basic Body Flight skills in a 4-way format.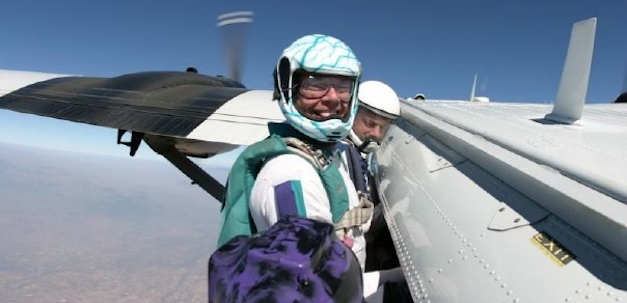 The 3-on-1 structure allows you to share the cost of the coach and the video.
Team Coaching:
Skydive University provides 4 and 8-way team training for all levels. Our coaches assist in mapping out a training plan, covering exits, random, and blocks. Most importantly––we work on team building and reinforce a positive training attitude.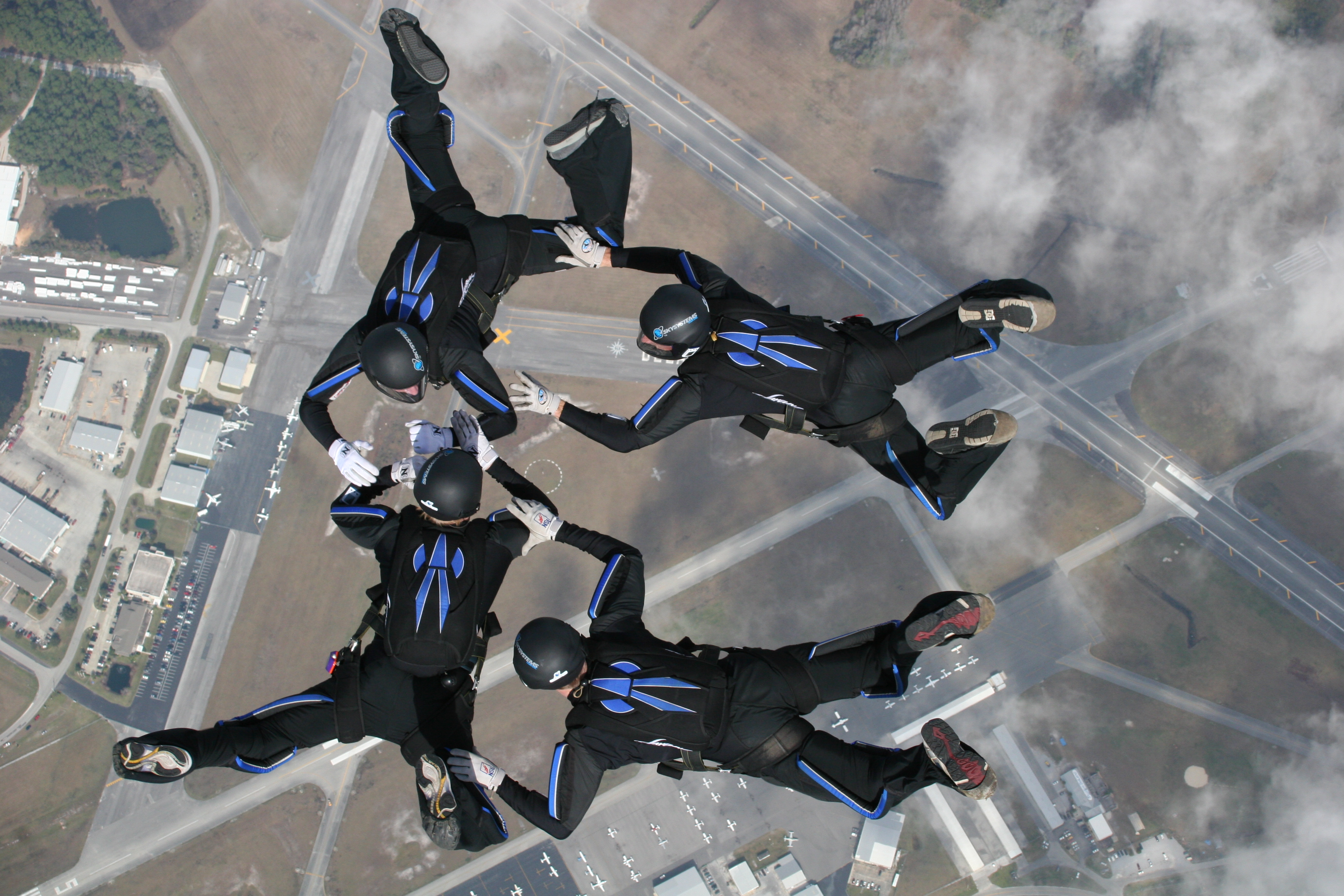 Skydive University provides 4 & 8-way team training for all levels. Our coaches assist in mapping-out a training plan, covering exits, random, & blocks. Most importantly, we work on team building & a positive training attitude.
Large Formation Training:
SDU runs camps in DeLand, FL and multiple other locations to solidify training skills and strategy for building large formations (big-ways) and sequential formation skydiving. The training can be done one-on-one–for individual skills–or by way of big-way starter camps (utilizing 6-12 people to run drills pertaining to closing in on a formation). It can also be conducted through larger formation camps with two or more planes.
SDU's founder, coach Rob Laidlaw, is a World Team Captain and occasionally runs tryout camps to get athletes recommended and added to the World Team invitation list.