WIND TUNNEL AFF (TAFF) COURSE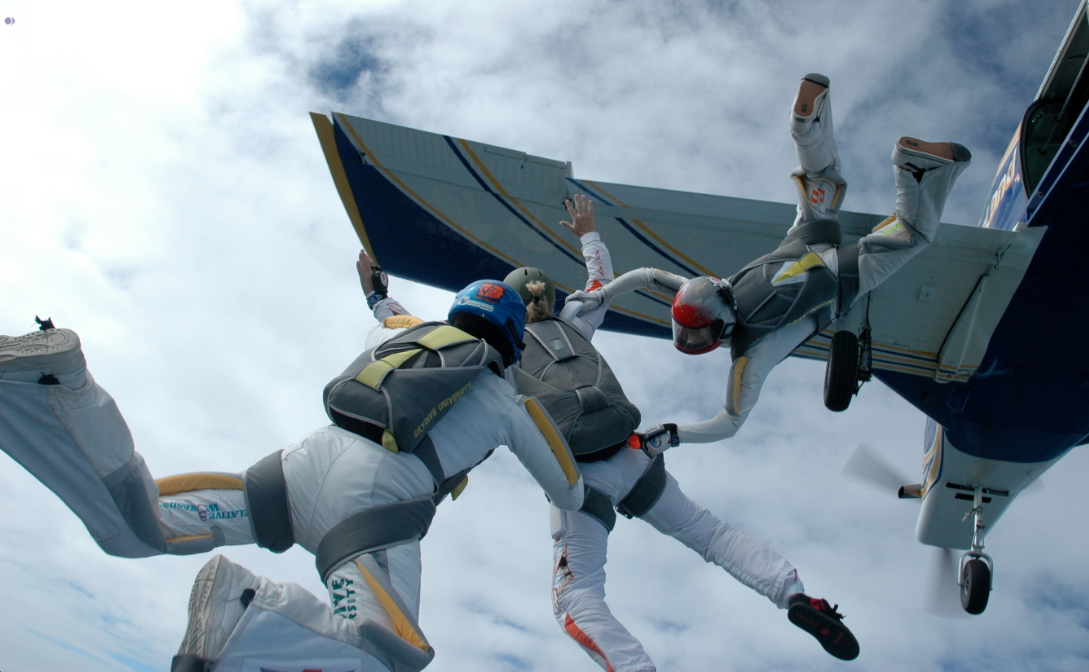 Tunnel Accelerated Free Fall (TAFF)
If you're ready to make your first skydive but feel a little uneasy, Skydive University in DeLand, FL offers a Wind Tunnel Accelerated Freefall (TAFF) course that thoroughly prepares you for your first jump, eliminating much of the stress associated with a "first skydive" and enabling you to have more fun!
TAFF is a truly unique program utilizing the iFly Orlando Wind Tunnel in Orlando, FL: In this course, you will develop your freefall skills flying two, 10-minute sessions in the tunnel before ever entering or exiting an aircraft. This ensures that you will already be stable in freefall and able to effortlessly pull your pilot chute handle before making your first skydive.
The Tunnel AFF course consists of 20 minutes of wind tunnel training followed by 8 real skydives. At the end of this, you will have developed more impressive skydiving skills and a foundation of confidence that no other AFF program can offer.
Your TAFF training will be split into two sessions:
Part One: The program begins with ground training to teach you the basic skydiving body positions for freefall. You will then head to the wind tunnel to fly a total of 20 mins. practicing these maneuvers. Training in the wind tunnel allows you to feel what it is like in freefall without the pressure of jumping out of an airplane!

Part Two: The next day you will continue with the remainder of your First Jump Course. This training will teach you about your skydiving equipment, how to control your canopy, altitude awareness, exits out of the plane, and additional preparation for unusual situations. After this, you're ready to skydive!
Your first skydive: You will exit from 13,500 feet and have about 50 seconds of freefall time with two experienced instructors. Since your freefall skills will already be developed, emphasis will be placed on your exit, altitude awareness, pulling the ripcord, and controlling your parachute.
Next: You'll make 3 more jumps from 13,500 feet with one AFF instructor in order to further develop your freefall and canopy skills.
Then: You will make 3 more jumps with a personal trainer to start developing the techniques you'll need to build formations with other skydivers in freefall. You'll also continue to practice controlling and landing your canopy.
Finally: Your 8th jump is from 5,500 and is your first solo skydive!
CONGRATULATIONS! At the end of Level 8, you have graduated your AFF course and can now skydive without the supervision of an instructor!
Contact

SDU for more information.

TUNNEL ACCELERATED FREEFALL (TAFF) MATRIX

CATEGORY
USPA

IN-FLIGHT

FREE FALL

CANOPY CONTROL

EQUIPMENT

THEORY & REVIEW

A - D


Level 1
Exit: 2-1 poised
Arch
Altimeter use
Activation
90° Turns
Flare practice
Pattern
Landing/line control
Parachute landing fall
Fit gear
First Jump Course
Seat belts
Flight planner use

E


Level 3
Exit: 1-1: solo
Safety check (3's)
Barrel roll
Back loop
360° turns; Yellow
Pattern assessment
Preflight gear
Aircraft pattern - traffic
Student skydivers
Turbulence

E


Level 4
Exit: solo: rear float
Spot: 90° horizon
Front loop
Delta
360° turns; Red
Set AAD
RSL use
Spotting theory
Calculating freefall time
Canopy decision process
AAD manual
RSL knowledge

F


Level 5
Exit: solo: rear float
Spot: 90° horizon - ACT
Forward
Backward
Grips
SCS
Heading control
Stalls
1/2 braked flight
Wind assessment
Select a patter; A-B-C
Main:
Canopy
ownner's manual
Accidental activation
Review obstacle landings
Altitude awareness
(Eye-balling, Time sense)

G


Level 6
Exit: solo: rear float
Spot: 90° horizon
Forward with SCS
Track refinement
Stall and recovery
Flat turns
Adjust set up point
Pack demo
Review dual canopies
Break-off
Track

G


Level 7
Exit: dive exit
Spot: 90° horizon
Freefall drift
Forward & Back
Track refinement
Rear riser turns
Rear Riser Flares & Stalls
Adjust glide angle
Inspection:
Wear points
Pack
A/C emergencies
Canopy decision process
Cloud clearance
Rectangular vs. Square

G


Level 8
Exit: solo
Safety check
Spot
Solo high freefall
Spot error strategies:
Long spot, Offset spot
Adjust glide angle
Pack
Group separation
Why choose Skydive University and Tunnel AFF?
The advantage of our initial wind tunnel training heightens awareness and skill in the air through flight simulation, which establishes relaxation and increased safety—allowing better, more precise decision-making due to reduced stress.
The tunnel allows us to train in most (if not all) the basic body flight fundamentals prior to even making a first jump, facilitating a learning curve that will benefit you through the entire program.
Our TAFF platform allows for greater success and retention, with minimal repeat levels or additional exercises due to reduced stress since one is already familiar with freefall control. This helps keep the training on budget and on schedule!
Our Tunnel AFF program also blends seamlessly into our Basic Body Flight training for group or formation skydiving. Formation skydiving skills are to be refined and improved through all license levels, "A" through "D".
SDU: Setting the Standard in Skydiving Education
Skydive University was the first organization to focus on and increase canopy control training and education (reference our educational package, Basic Canopy Flight). The USPA's Integrated Student Program has included much of Skydive University's canopy control information in their latest manuals.
The entire Skydive University team has been trained by USPA and has received additional, extensive coach training through Skydive University.
Our coach training focuses on the positive, providing constructive feedback in a highly receptive style of communication and instruction. We also offer long-term leadership, instructor and coach training for accomplished divers (in addition to one-on-one and group coaching for beginner and intermediate skydivers).
Skydive University's coaching course has been used as the template for the USPA coach course and multiple other national association instructor courses.
Located in the Skydiving Capitol of the World
Skydive University is an international organization; however, our home base is at Skydive DeLand in warm, sunny DeLand, FL: The Skydiving Capitol of the World.
Some of the Skydive DeLand facility advantages are:
Open 365 days/year

Large airport and open landing area

Close proximity to equipment manufacturers

Nearby Lodging

Well-equipped with many amenities (restaurant, restrooms, showers, and a YMCA just beside airfield for physical training).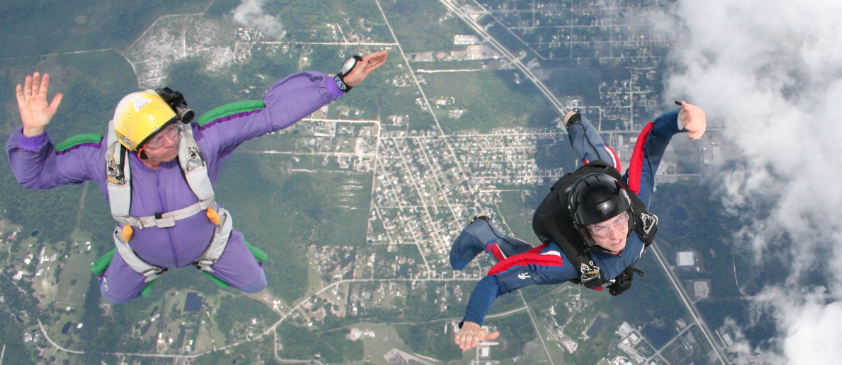 The following articles published in Skydiving top Magazines have been included:
Tunnel AFF
Published in Skydiving Magazine
20 years ago, the AFF program revolutionized student training.  It created an environment in which people could become competent skydivers in a relatively short period.  It was revolutionary because it used experienced skydiving instructors in-air; the result was that student jumps became safer and more successful.  By graduation, students were more skilled and confident and there were fewer accidents than under the old system.  Other than some small changes to this program, it has stood as a standard of excellence in our sport and remains one of the most effective teaching programs we have.
Today there is an amazing revolution in student training it is called Tunnel AFF.   Skydive University has been using this method of training students for the past 2 years with incredible success.  It is changing student training, and is responsible for more students completing and graduating AFF. This year, Guy Manos chose to use a wind tunnel to train Stephen Baldwin and Tom Berenger for the movie Cutaway.  The reason for this was to produce safe, skilled skydivers in a short period.
Wind tunnels have been around for a long time, but it is only in the last 3 years that the new type of wind tunnel has made a dramatic impact.  Sky Venture, and to some extent Fort Bragg are changing the way skydivers train.  From the top teams to boogie jumpers, more and more people are using the tunnel as a training tool and toy. A prime example of how effective the tunnel is for skydivers is the impressive win in the intermediate 4-way event at this years US Nationals by the Sky Venture team, Rage.   
It is an extremely effective and efficient tool for increasing personal skydiving skills, whilst being great fun at the same time, a powerful combination for all skydivers
By Roger Allen
Vice President of S.S.E.
Military Marketing

Introduction to Accelerated Tunnel AFF
Published in Parachutist Magazine and in SkyVenture advertising 
Rob Laidlaw, Skydive University's president was first introduced to the effectiveness of wind tunnel training in 1997. Having had the opportunity to fly and coach at the Fort Bragg wind tunnel in Fayetteville, North Carolina.  After flying in open air tunnels the potential of training in the Bragg tunnel was so much greater as the airflow was cleaner and stronger allowing the application of technically correct freefall techniques and equipment.
Shortly there after Laidlaw met SkyFun1 owner and President, Bill Kitchen and learned of Kitchen's plans to build the Sky Venture tunnel in Orlando. A concept, which seemed to be a more effective tunnel than currently available to civilians.  The planning of a special basic training program was started in anticipation that the tunnel would be a more realistic freefall simulator. All hopes and assumptions proved to be exceedingly correct.
The Tunnel Accelerated Freefall Program provides more skill training to the client than any other program in the same number of jumps. The first jump course is split in two with the first day being geared towards the Body Flight skills including training pulls and cutaway/reserve handle identification. This phase of the first jump course includes 20 minutes of flying time in the Sky Venture Tunnel.
The second half of the first jump course covers the remainder of the parachuting skills and emergency and unusual situations. Once completed, the client does one two on one jump, which include a release and two 90° turns as well as, hopefully: a solo activation. 
The following three jumps are one on one, which include the following skills: 360° turns, barrel rolls and back loops, front loops, delta dive and can also include several different exit positions. A Hop and Pop is done either following their fourth jump or anytime until jump eight.
The biggest addition to this program over all others is that we have included eight classes of canopy control which covers almost all and some additional canopy control skills identified in the USPA "ISP" program.
The advantage is that the tunnel training dramatically reduces overload in freefall. The tunnel also allows us the opportunity to assess strengths and weaknesses before we ever get into the air. 
This reduction of overload also allows us to focus on and introduce more canopy control skills.
The program initially may seem to be more expensive than most standard AFF programs. What must be recognized is that any other program would require 11 jumps to include coaching of the Formation Skydiving requirements for the "A" license.
The Basic Body Flight training completed in the tunnel also allows for a much more positive performance of Body Flight training following the 8 jumps and most students take advantage of that opportunity.
With this considered The Tunnel AFF program is a terrific value for those who are serious about becoming a great skydiver.
The main difference between Tunnel AFF and regular AFF is the use of    coached tunnel time before AFF level 1. The effect has been to ensure a stable body position, heading control and stability at pull time for students before going into freefall for the first time. These are the main difficulties encountered by first time students and are common reasons why some students never manage to complete the AFF program. It is also comforting for an AFF instructor to know that their students have already established muscle memory for a good body position before their first jump.
This program has been a big draw to clients who are already training in the various other programs.  We have had a number of people come to us to fix a turn/spin problem or exit or instability problem. To date we have been successful with all to include helping some make the decision that they are not enjoying freefall regardless of their performance level. This usually happens at the tunnel but also after completing the program successfully. The majority, however have all gone on to continue to enjoy skydiving with personal performances that are enhanced and gratifying.
By Ann Maxwell
Administrator Assistant
Campus Director for SDU